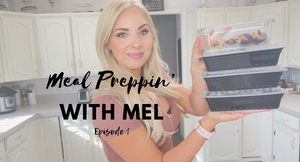 LEARN HOW TO MAKE THE FOLLOWING MEALS: 
CHICKEN EGG ROLL IN A BOWL 
CHICKEN FAJITA BOX
CHEESEBURGER BOX
PEANUT BUTTER DATE DESSERT
DOWNLOAD THIS PDF AND HAVE ACCESS TO A PRINT OUT OF HOW TO MAKE EACH MEAL AS WELL AS A VIDEO HOW TO EXPLAINING IT. GROCERY LIST PROVIDED. PREP ALL OF THESE MEALS AND YOU WILL HAVE 15 MEALS PLUS DESSERT FOR THE WEEK.