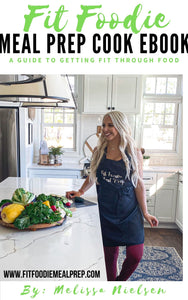 This is a meal prep cook ebook with all of my favorite recipes that are great for meal prep. You can use these recipes for meal prep, or just for a weeknight dinner or snack. This is the ultimate guide to meal prep and getting fit through food! Included with this PDF you will get:
A guide to help you determine how many calories you should be eating per day based on your goals and activity level. 
Mindset and preparation tips and guidance
Fit foods to stock up on. A list of great items to fill your fridge, freezer, and pantry with!
Lesson on cooking the basics: Cooking proteins like chicken and steak, eggs, brown rice, quinoa, and roasting vegetables or starches. Also includes a formula to help you determine how much protein to buy. 
Tips on Buffet Style Meal Prep
Access to my private Meal Prep Group where I share additional tips and tricks and other videos and recipes. 
Once you purchase, it will say available for pick up, but disregard as this is a downloadable pdf that is sent to you.