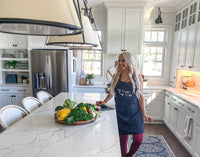 Welcome to Fit Foodie Meal Prep!
Hi! My name is Melissa Nielsen, and I am the owner of Fit Foodie Meal Prep. My mission is to help people improve the quality of their life through the foods they eat. I have meal prepped for a variety of individuals from professional athletes, teachers, doctors, lawyers, and many more! I have even appeared on Food Network.
My number one focus is helping my customers fill their fridge with nutrient dense foods that will fuel their health and fitness needs.
If you aren't local or maybe want to do the meal prep yourself, I do offer downloadable eBooks with many of my favorite meal prep recipes. I also offer fitness guides to help you in the gym or working out at home if you're on a fitness journey but need a little bit of guidance.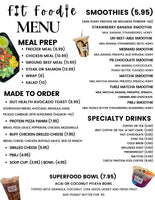 WE ALSO OFFER MANY DINE IN AND MADE TO ORDER OPTIONS TOO!
Our meal prep meals are always our number one focus. We cook our fresh batch of Meals all day Monday and the new meals are ready to go Monday late afternoon. Our other menu items are available all day Monday. Some people have asked why don't you just cook all day Sunday so the meal prep meals are ready to go on Monday morning? Well, at Fit Foodie we value our Sundays and our Staff too much for that!
Our Meal Prep menu changes every single week. We pride ourselves on providing a healthy and convenient option for our community.
As a bonus we also have some dine in options of smoothies, super food / acai bowls, specialty drinks, house made wellness shots and juices, and many healthier treats too! We offer dine in, curbside, and delivery through DOORDASH.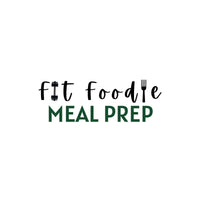 HOURS:
MONDAY: 9am-6PM
TUESDAY: 9am-6pm
WEDNESDAY: 9am-6pm
THURSDAY: 9am-6pm
FRIDAY: 9am-2pm
400 RIVER ROAD GRAND RAPIDS, MN 55744
Testimonials
I am so thankful we have found Fit Foodie. Melissa is professional, knowledgeable, extremely responsive, and has been a complete pleasure to work with. She goes above and beyond for her clients and when you work with her, you feel that. Since eating Fit Foodie food, dinking the juices and taking the wellness shots, I have noticed a huge difference in my life. First of all, the meals have tasted great. My energy has increased significantly, mood has improved, and my cognition is sharper. With all of that, it's safe to say I feel overall so much better. I have even been able to stop taking medication I was on for anxiety. This has been a true blessing to my (and my families) life.

ANNONYMOUS
Shout out to Fit Foodie. She's always taking care of me. Looking forward to the game tomorrow. Check her out. She's one of the best."

Anthony Harris, Minnesota Vikings
My first day of eating my meals (lunch & dinner) was freaking amazing!! The taste was 10/10 and Im beyond grateful for her service as life gets so busy while working 2 jobs.

Ashley C.
Being a full time college student a close to full time employee is hard. I found myself eating at work a lot and it wasn't healthy. This makes eating healthier easy and saves me time.

Jake L